Temporary rental of living space at Camping De Bocht
Unfortunately are all our chalets fully booked until the end of  2023.
On our campsite we rent out fourteen chalets as temporary living space. We are open all year for all guests of our campsite, so there are always people in the park. The restaurant is also open all year round. We offer comfortable, self-catering accommodation for temporary rental periods. All chalets are sited on a plot with trees / bushes surrounding them on three sides and with a lawn in front providing a sense of privacy. Attractively furnished with comfortable beds and a good bathroom, all our chalets are fully equipped with furniture, TV, vacuum cleaner, coffee maker, kettle, plates, cutlery, pots, pans, etc. Duvets and pillows are provided free of charge on request. At the campsite there is a laundry with a washing machine, and both spin and tumble dryers. We live at the campsite so there is always someone nearby, just call and someone is available to give help or support (English speaking).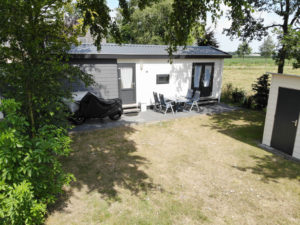 Temporary living in beautiful Oirschot
Standard Chalet as temporary living space
Depending on the model, the chalets have one or two bedrooms, kitchen with microwave, stove with extractor, fridge with freezer. There is a spacious living room and a shower and toilet. All chalets are well insulated and have double glazing. Heating comes from a natural gas stove in the living room. The chalets are connected to all services and have a TV connection. Wireless internet (wifi) is available throughout the campsite and in all temporary living spaces. At each chalet you will find your own secure storage room, or shed for that 'extra stuff'we all seem to need. With good weather you can sit out on the paved terrace, or your own spacious lawn. Outdoor furniture is also provided for the temporary living spaces.
Rent a luxury chalet
A luxury chalet is similar to a standard chalet, with a spacious bathroom, luxury kitchen with fridge / freezer and microwave. Central heating is available. Smoking is not permitted in these temporary homes.
Comfort chalet as a temporary home
This temporary living space is the same as a luxury chalet but with the added benefit a dishwasher. The comfort plus chalets even have underfloor heating and are provided with wider beds. Smoking is not allowed.
Do you have questions regarding the temporarily renting of a mobile home or chalet at our holiday park in Brabant? Then contact us without obligation: use the contact form or call +31 499 – 55 08 55. An English speaking member of staff will be happy to help you.