Chalet rental at Camping De Bocht
If you rent a chalet at Camping De Bocht you will have a wonderful carefree and relaxing holiday. Camping De Bocht specialises in chalet rental and has a number of beautiful chalets available. You can rent a simple chalet from us, or opt for a luxury chalet. All are well equipped to make your stay easier. We have chalets suitable for two people, or if you have a family, we have chalets suitable for all of you! You'll have the time of your life in a chalet at Camping De Bocht! Quite simply, anyone who wants to rent a beautiful, well-equipped chalet should definitely come to Camping De Bocht.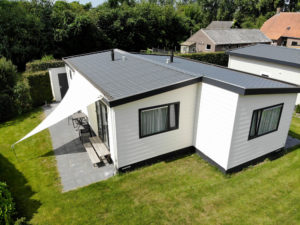 The standard chalet has a living room with furniture, TV and heating kitchen with gas stove, extractor, fridge with freezer and is also fully equipped with pots, pans, coffee maker, cooker, plates and cutlery. One or two bedrooms with a double bed and two single beds for children (depending on the type of chalet this can be bunk beds or singles). Bathroom with sink, shower and toilet. At each chalet there is a shed for your bikes (and all those extras you always bring with you) and there is a terrace with garden furniture. Smoking is not allowed in our chalets.
The luxury chalet has everything found in the standard chalet, but with a luxury kitchen (fridge-freezer and microwave.) The children's bedrooms have larger beds and the bathroom is larger.
Our comfort chales are similar to the lusury chalets, but with a dishwasher. The comfort plus chalets even have underfloor heating and are provided with wider beds.
Chalet rental prices
The rental for a chalet rental includes all costs (gas, water, electricity and internet), however it excludes tourist tax. If you click on the number of the chalet you are interested in, you will see a picture of the chalet enlarged. Below you will find an overview of the chalet rental prices. Prices are per week from Saturday 3:00 PM to the following Saturday 10:00 AM.