ACSI Campsite De Bocht
Camping De Bocht is official partner of ACSI and has been inspected by them to comply with the regulations for an ACSI campsite in the Netherlands.
Official listing of our small ACSI campsite
ACSI Camping in Brabant
ACSI is an organization that aims to ensure that all campsites meet minimum standards and to provide various services to support the campers.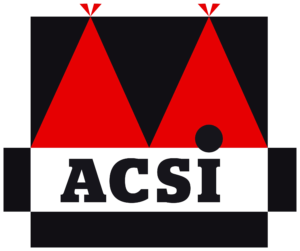 ACSI also provides information about ACSI campsites in the Netherlands and issues the well-known guide about this. ACSI is a company based in the Netherlands and has existed since 1965. In addition to ensuring that ACSI campsites have enough visitors, ACSI can help organise camping trips and the booking of camping pitches on campsites.
The ACSI CampingCard
Camping De Bocht accepts the ACSI CampingCard. This is a discount card that is only valid in the low season. It aims to make the low season more popular with campers and thus fill the ACSI campsites.

You can use this CampingCard on our campsite to book your holiday here in Brabant.
Do you have questions about ACSI campsites? Or about the use of the ACSI CampingCard? Please contact ACSI CampingCard at: +31 488-471434, an English speaking member of staff will be happy to help you.