Hiking in the Kempen
The Brabantse Kempen, within cycling distance of Camping De Bocht in Oirschot, is a beautiful and particularly woody nature reserve in the Dutch part of the region, with the same reserve continuing across the border into Belgium. The most important part of this nature reserve, which is very popular with young and old and has a wide range of beautiful cycling routes, walking routes and campsites, is formed by Boswachterij De Kempen. This is an area of over a thousand hectares – nestled between the Brabant towns of Eersel, Bladel and Reusel-De Mierden – which is owned by Staatsbosbeheer.
The wooded area, containing many historic church villages, fairy-tale marshes, endless fields, quiet heather with areas of sand, not to mention the excellent facilities for both cyclists and walkers, make the Brabant Kempen a true paradise for everyone who loves peace and quiet, and space to think. Add to this the nature, typical of Brabant, the character of the Kempen and the friendliness of its inhabitants, and you understand why more and more nature lovers come to this beautiful area for walking, cycling and / or camping.
Hiking trails through the Kempen
That you can enjoy cycling in the Kempen is no secret for most people. What many do not know however, is that the Kempen also has a lot to offer for walkers. For example, an extensive network of paved and unpaved walkways allows you to actually treck for days on end without having to visit places more than once. These many, completely different walking routes ensure that and at the same time they introduce you to the most beautiful places in the Kempen.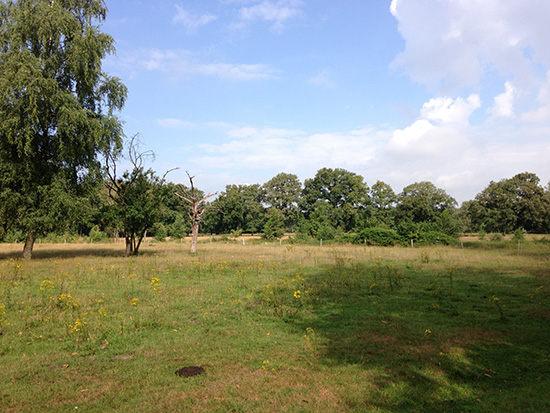 Perhaps you would like to follow in the footsteps of Napoleon when walking across the Cartierheide at Hapert, and walk in forests, along the same sand paths that merchants and smugglers have walked for centuries? The landscape of the Kempen is full of stories. So perhaps it's time to immerse yourself in the rich history and beauty of this beautiful region. If you looking for a campsite in the Kempen, Camping De Bocht on the Oude Grintweg 69 in Oirschot (near the Mortelen) is a perfect base for an unforgettable introduction to the pleasure of walking in the Brabantse Kempen.
Hiking trails Staatbosbeheer Kempen
Come and camp at Camping De Bocht.